Welcome Members and Guests to our World of Trucking and Expediting
Our Forum is the all year around meeting place, where drivers and owners come for Information or discuss trucking and expediting related questions. Whether you drive a Tractor/Trailer, Expediter Straight Truck or Van, you are very welcome here in Expediter World. We bring you Expediting and Trucking News on a regular basis. Trucking Professionals as well as Newbie's enjoy our Photo Gallery and NEW Free Classifieds. You can also find the right job with our new website, please visit us at www.expediterjobsonline.com. You can also check diesel fuel prices with our National Truckstop fuel price locator. Join us in relaxing, having fun and playing games.
Shuttered mega-carrier Celadon entered into an agreement to sell their Mexican assets for over $6 million.
On June 11, 2020, Jaguar Transport Inc. bid $6.8 million to acquire Celadon's Mexican assets via an online auction, according to court documents filed in the U.S. Bankruptcy Court for the District of Delaware.
The $6.8 million sum was adjusted down to $6.1 million after a June 12 stock and asset purchase agreement. Per the agreement, Jaguar Transport will assume Celadon's liabilities associated with their Chapter 11 filings.
The assets purchased include Celadon Mexicana and Jaguar Logistics and Leasing Services. Included in the purchase are Celadon's terminal in Nuevo Laredo, five International ProStar Class 8 trucks, and 75 trailers.
P.A.M. Transportation Services and White Willow Holdings also attempted to purchase Celadon's Mexican assets, but both deals fell through.
Celadon filed for Chapter 11 bankruptcy on December 9, 2019 and immediately announced that they would shut down operations. Around 4000 Celadon workers, many of them drivers, were suddenly laid off just weeks before the holidays.
Jaguar Logistics also reportedly shut down for a time around the bankruptcy announcement but appears to have resumed operations of a fleet of 70 trucks.
The bankruptcy and closure news came just days after the Department of Justice (DOJ) announced that two former executive officers with Celadon would face charges related to fraud and lying to investors.
Earlier in 2019, Celadon agreed to pay $42.2 million in restitution to shareholders for "filing materially false and misleading statements to investors and falsifying books, records and accounts."
Celadon was founded in 1985 and was the largest provider of international truckload services in North America, operating 3,300 tractors and 10,000 trailers at the time of the bankruptcy.
On June 17, 2020 a Norfolk Southern train crashed into a semi tractor trailer in downtown Duluth, Georgia, when it became stuck on the railroad tracks.
The incident happened around 9:25 a.m off Buford Highway just North of Pleasant Hill Road.
Authorities say that the wreck caused 20 to 23 cars to derail off the tracks. This included 3 locomotives and 2 hazmat cars. No hazmat material leaked.
Two conductors of the train and the semi truck driver were transported to the hospital with minor injuries.
Crews reopened Buford Highway around 12 p.m.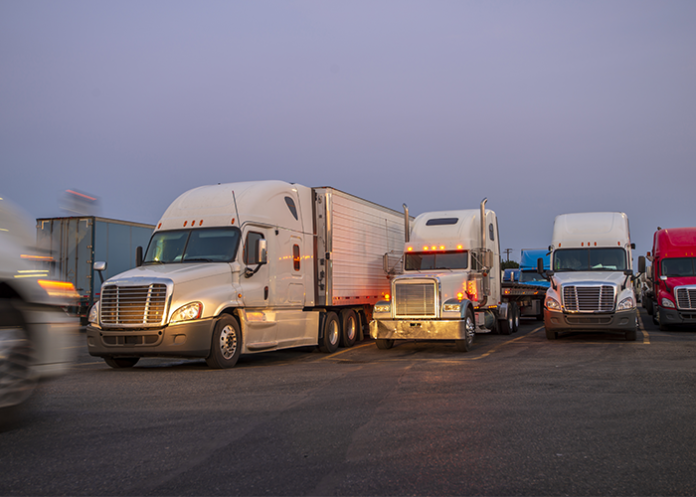 A truck driver recently said that his high value load came with something extra — a list of truck stops that the client asked him to avoid.
The list features truck stop locations in 20 states: Alabama, Arizona, California, Colorado, Georgia, Illinois, Indiana, Iowa, Louisiana, Mississippi, Missouri, Nevada, New Mexico, North Carolina, Oregon, South Carolina, Tennessee, Texas, Utah, and Washington as well as Saskatchewan.
Texas has the largest number of locations on the "DO NOT STOP" location list.
A veteran-based driving school that specializes in armored trucks has started holding classes in Clarksville.
Armored Trucking Academy started its first four-week training class June 1 to teach students how to drive commercial trucks and to earn their license.
Institutional director Jerramie Medlen said they partnered with Austin Peay State University and have a subsequent relationship with Fort Campbell because they want those who transition out of the military to have options.
"We're here to serve those who have served for us," Medlen said.
He said people are concerned about being on the road 24/7, as some have spent their entire military career away from home. But the company has options for those wanting to remain local. From Waste Management to Screaming Eagle Ready Mix, the academy has reached out to several companies to make ends meet for their students.
"We've reached out to 15 local employers that are ready and willing to hire veterans that get these licenses in order to keep them at home every night."
Training at Armored Trucking Academy is funded, through Campbell Strong, while post military and civilians will be funded through the Workforce Innovation and Opportunity Act. The students only have to pay for their permit, physical and final test.
And there are no contracts with a specific company after receiving a license through the academy.
How it works
The four-week training program runs 8 a.m. to 5 p.m. Monday through Friday and will consist of eight students total. The trucking school does provide trucks and trailers for all students in the program.
Week one
The first week is in a classroom at Austin Peay. After some instruction and study, students will take a practice test for their commercial driver's license permit. At the end of the first week, the students will go to the DMV to receive their permits.
Week Two
The rest of the training will be hands-on and taught at the Armored Trucking Academy, 175 Terminal Road, with pre-trip instructions, driving and backing maneuvers.
Week Three
The students will be introduced to driving the trucks on the road — "initially just without a trailer so they can get comfortable with the truck," Medlen said. By day three, students are then expected to drive the trucks on the road with a trailer attached.
Week Four
The first few days are for one-on-one assessment and review to make sure the students are comfortable enough to take their test. The last two days the students will take their road test to receive their driver's license.
Medlen said he looks forward to bringing more job opportunities to the community and to "hear people see their success not because of us, but in lieu of us."
For more information go to www.armoredtruckingacademy.com, email armoredtruckingacademy@gmail.com or call 931-542-4323.
A 28-year-old truck suffered severe burns and other injuries Tuesday, June 9, when the truck he was driving left Interstate 49 in Louisiana and landed on a highway below.
Motorists pulled the unidentified driver from the flaming wreckage of the crash that occurred at about 8:30 a.m. in Derry, Louisiana.
Louisiana State Police say the trucker's 2019 Freightliner boom truck was northbound on I-49 when the rig ran off the right-hand side of the road, struck a metal guardrail and a concrete rail. The rig landed on Louisiana Highway 119.
State police continue their investigation.
Derry is located about 90 miles south of Shrevepor
Pennsylvania State Police say that they arrested a New Jersey man for a variety of violations after he drove an overweight truck over a bridge earlier this week.
Police arrested 50 year old New Jersey resident Richard C. Smith Jr. in the early morning hours on June 8 in Lower Mount Bethel Township, according to reporting from local news outlet WFMZ.
The incident began when Pennsylvania State Police were dispatched to the Riverton–Belvidere Bridge (also known as the Belvidere Free Bridge) for reports of an overweight truck crossing the bridge.
When police arrived on the scene, they determined that Smith had driven the approximately 40 ton truck across the marked 8 ton bridge.
In addition to the overweight violation, police also discovered that Smith did not have a CDL.
Smith told officers that he had gotten the truck from his wife from a trucking terminal near Philadelphia.
Police later learned that Smith is not married, had no reason to be driving the truck, and that the semi truck had been stolen from a truck lot in the Philadelphia area. Authorities also said that he was listed as a "missing and endangered person" in a database.
Smith now faces felony charges of theft and receiving stolen property in addition to traffic offenses.
Smith was not the first person to find himself in hot water for driving a truck over the bridge.
The photo below was shared on social media in September 2019.
The bridge was built in 1904 and underwent a nearly $9 million renovation in 2006.